University of Utah partners with NC&BC June 2019
We are very excited to announce a partnership between the University of Utah's Biomedical Informatics Department and the Nepal Cleft and Burn Center.
A few years ago, we obtained a grant from IBM which subsidized iPads the NC&BC in Kathmandu. The goal for the iPads was to enable more efficient clinical care. Through conversations with Dr. Shankar Rai, Dr. Susan Louie and Jim Webber, it was determined that information technology expertise and programming would be required in order to maximize the benefit of these iPads.
Fortunately for the NC&BC, in June 2019, a team of professors from the University of Utah traveled to Kathmandu with a mission to assess the NC&BC's iPad use and implement or create software to optimize the technology.
The U of U Team consisted of Dr. Wendy W. Chapman, Dr. Charlene Weir and Dr. Thomas Reese. Dr. Susan Louie is from Seattle, Washington. The team spent 5 days at the NC&BC with Dr. Rai and his staff.
The team was able to observe current record documentation, interview staff at all levels, analyze data collection from labs, pharmacy and records, attend daily morning meetings and accompany doctors on daily rounds.
The information gathered will be used by the University of Utah Team to create an information technology system for the NC&BC. Stay tuned as we move forward and further impact lives in Nepal.
"Simple solutions equal big payoffs"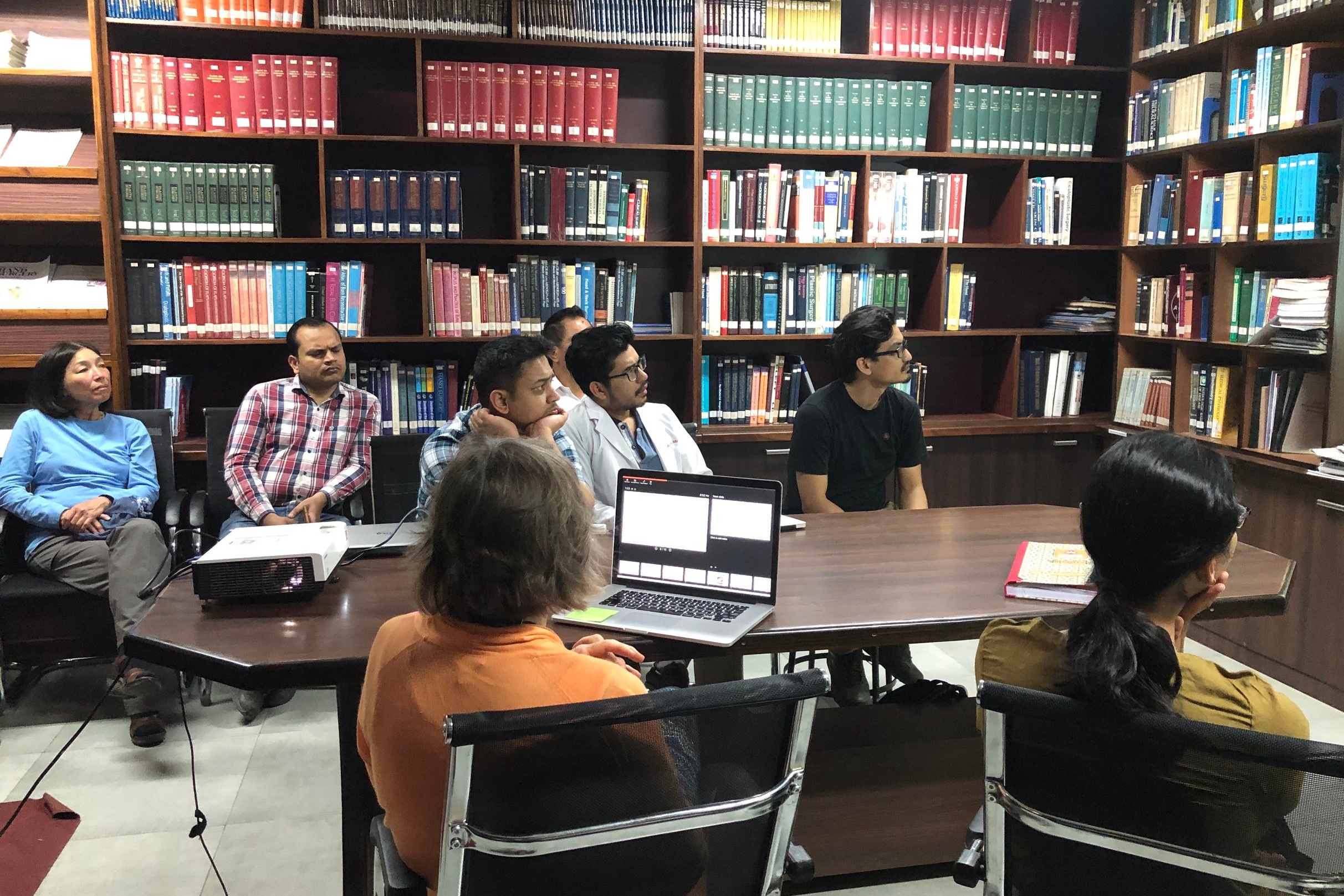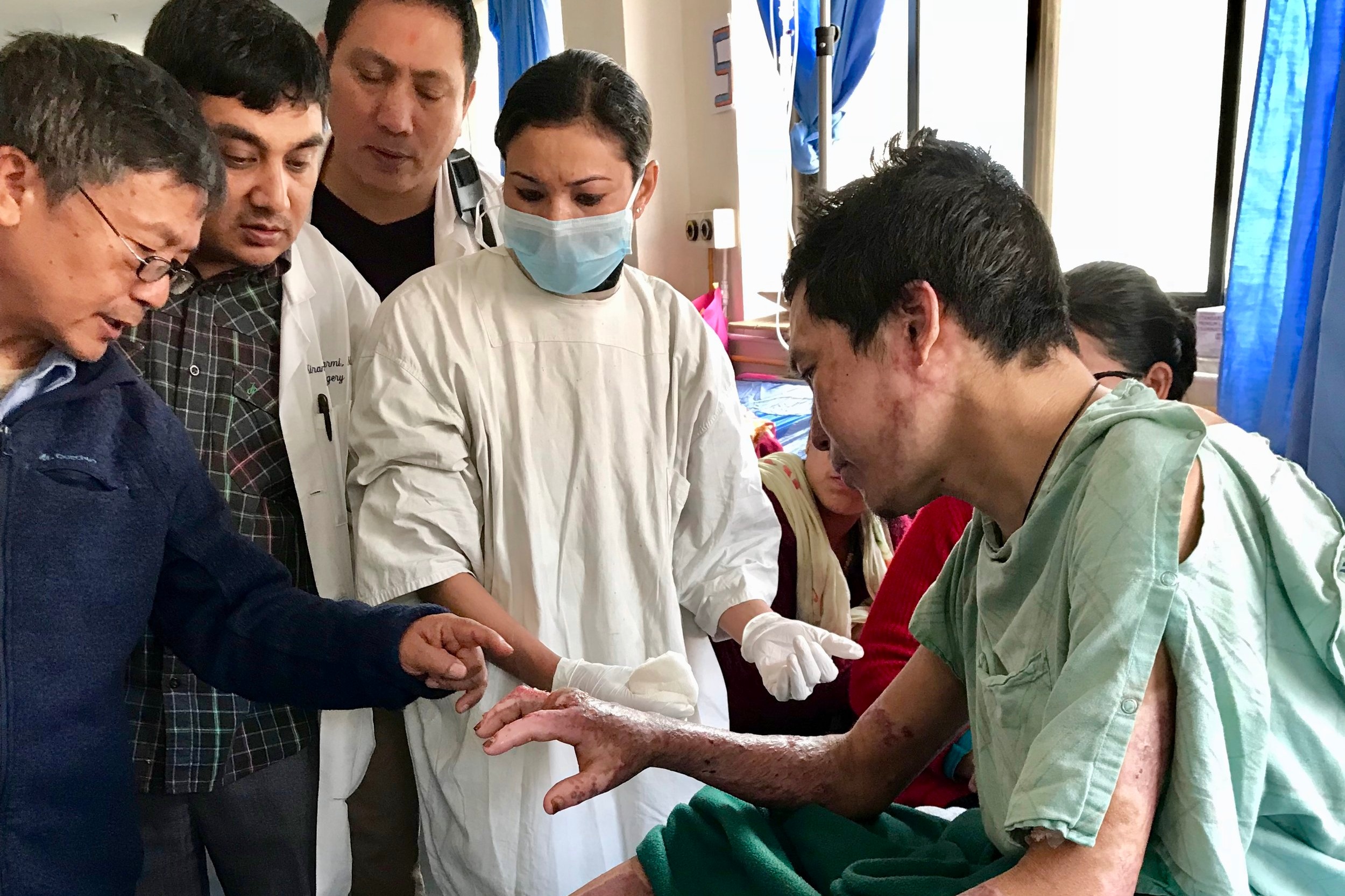 RUG SHOP AIDS NEPAL HOSPITAL
Katie Drake, The Salt Lake Tribune (November 20, 2008)
Tibetan rugs sold in Utah are giving children in Nepal a new lease on life
The Nepal Cleft & Burn Center, a Salt Lake City-based nonprofit organization, has plans to build a hospital in Kathmandu, Nepal, providing much-needed medical care.
Jim Webber, the owner of Foothill Oriental Rugs, runs a Tibetan rug factory in Kathmandu. Over the years, he has become part of that community, and saw the hospital as a way to give back.
Webber partnered with Shankar Rai, a Nepalese reconstructive surgeon, to find a project that would have a lasting impact. They decided on a cleft and burn center because operations are relatively simple, but can dramatically change a patient's life.
Cleft lips and palates are a large problem in Nepal, occurring in one-in-500 children, Rai said. Clefts are even more prevalent in Utah, which has the nation's highest incidence, one-in-450, said Marcia Feldkamp of the Utah Birth Defect Network, but most children receive corrective surgery soon after birth.
Burns are an even bigger problem in Nepal, as most people use open fires for cooking. Accidents happen easily, as clothes catch fire or children are hurt while playing. Rai said some burns can leave a person completely disabled and unable to work, while even more are disfiguring, diminishing marriage and job prospects.
Webber and Rai began planning the project six years ago, and in the past two years have raised $5,000, enough to dig and pour the foundation of the hospital. They recently raised over $20,000 at a fundraiser at Webber's store.
The event featured an auction of items such as a week at a Paris apartment, a season ski pass at Park City Mountain Resort and original works of art.
Despite the amount raised, Webber hopes donations continue coming, so the foundation can also pay for operating costs and supplies and equipment for the hospital.
Webber also has plans for the hospital to provide a place for patients and their families to stay while undergoing surgery and recovery, as many will travel from surrounding villages.
"What we need is almost endless," Webber said.
The surgeries, already underway at other facilities, are free to patients through Interplast, a California-based nonprofit that focuses on reconstructive surgery.
Rai and his team treated 1,200 clefts and 500 burn patients last year. Rai said the current facilities are not hygienic, crowded and lack adequate equipment. The new center will allow the team to give better treatment to more patients.
The facility will also be a teaching hospital for the entire region. Interplast will train medical staff from other countries to perform these surgeries, so they can someday take skills back to their communities and provide care.
Rai and Webber hope to have the hospital completed by the end of 2009. Webber visits his factory at least once a year, and plans to remain very involved in the hospital during those visits and through frequent contact.
"You can't be everything to everyone, so you have to choose your battle," Webber said. "And this is just a really good battle to choose."
MEDICAL SUPPLIES MAKE THEIR WAY FROM U.S. TO NEPAL CLEFT & BURN CENTER - 2010
Two 40-foot containers filled with medical equipment and supplies have set sail from the US to Nepal. To meet the Cleft & Burn Center's target opening date of July 1, 2011, Globus Relief worked diligently to assemble all the hard and soft goods needed for the hospital, including beds, gurneys, surgical instruments, supply carts, gowns, dressings, and blankets. Each container holds approximately 200,000 in supplies and equipment; by the time another two containers ship before the end of the year, the Nepal Cleft and Burn Center will be outfitted with more than a million dollars in equipment that was acquired through Globus Relief for about $.20 on the dollar.

The items have a long journey ahead of them: after leaving the US, the ship reaches Calcutta, India and the containers are placed on 18-wheelers bound for Raxaul, India. They travel by ground through Birgunj, Nepal before reaching Kathmandu - in all, the equipment will have traveled more than 9295 nautical miles and 1400 miles over land.